Uncollected rubbish: 1.8 million missed bin collection complaints in UK
Updated: Jul 26, 2019
Originally published by BBC News
Councils received more than 1.8 million complaints last year about domestic waste not being collected from homes, figures obtained by the BBC have shown.
A survey of councils found the number of complaints has increased by a third since 2014 on average results in 4,500 complaints every day.
However these figures only highlight reported missed collections - the figure may be higher of those going unreported.
Residents in England made 1.5m of the complaints, with 149,000 in Scotland, 92,000 in Wales and 33,000 in Northern Ireland.
Analysing figures from the Ministry of Housing, Communities and Local Government (MHCLG ) the BBC has reported that spending on waste collection by local authorities has fallen to £888m in 2017-18, from £1bn in 2010-11, after accounting for inflation.

What the figures show
Figures requested by the BBC under Freedom of Information Act to 391 local authorities responsible for waste collection in the UK show that 336 authorities provided responses, 1.8 million complaints were received in 2018 about non-recyclable, and recyclable waste not being collected.
Comparable data from 213 councils show the number of complaints in the UK has increased from 950,000 in 2014, to 1.3m in 2018, a rise of a third.

In real terms, spending on waste collection in England has fallen by 17% since 2010-11,
But the Local Government Association said 99.8% of bin collections went ahead without complaint.
In Wales, a 41% rise in complaints was higher than the average rise of 32% across the UK.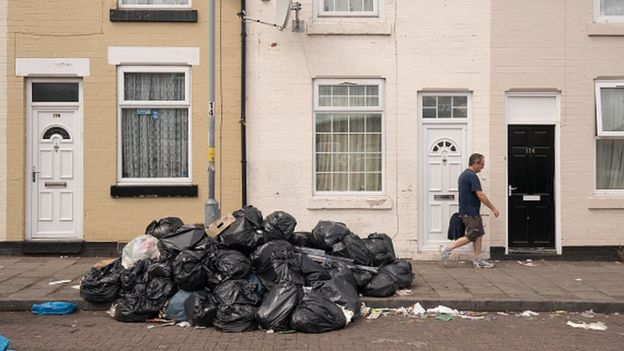 Speaking on behalf of councils in England, Councillor Martin Tett, from the Local Government Association (LGA), said:
"Councils carry out around 821 million waste collections from households per year - not including recycling collections - these figures actually show that 99.8% of bin collections were completed without complaint.
"Between 2010 and 2020, councils will have lost almost 60p out of every £1 the government had provided for services and councils in England face an overall funding gap of £8bn by 2025."
A spokeswoman for MHCLG said:
"Authorities are receiving £1bn extra in funding this coming year to help deliver local services.
"We want councils to respond to the wishes of local people, many of whom want to see bin collections as frequently as possible."
Biffa has been appointed to provide waste and recycling collection services to all households in these areas and to provide street cleaning in the Rother and Wealden areas. 
Hastings will be providing its own street cleaning in-house and all of the new arrangements will start on June 29.
The appointment of Biffa follows a robust procurement project conducted by Hastings, Rother and Wealden councils over the last year following a mutually agreed early exit from the current contract with Kier Environmental Services.
Councillor Tony Ganly, Chair of the Joint Waste and Recycling Committee, said:
"Collecting household waste and recycling and keeping our streets clean are essential public services and all the councils are delighted that Biffa will be our contracting partner.  
"As a specialist waste management company with a long history, Biffa's company knowledge and experience provides us with confidence they will deliver our residents with an excellent quality of service."
Simon Baddeley, Biffa Municipal's Development Director, said:
"We're delighted to have been awarded the contract for waste collection, recycling and streets cleansing by the Joint Waste Partnership. We'll be ensuring our brand new fleet will support a seamless handover from the current waste collection provider while continuing to deliver cost-effective services.
"We are also excited to be able to use our technology to provide not only a better service for members of the public, but also a safer one for drivers and residents.
With the addition of 360-degree cameras to all of our frontline vehicles we will not only keep them safer, but also inspect streets more efficiently while operating the new street cleansing service."
Flytipping On Silchester Road, St Leonards
Under the current contract with Kier Environmental Services, which started in 2013, the nature of the waste and recycling environment has changed enormously.
The councils will work in partnership with the new contractor, Biffa to meet the service requirements expected by residents, employing a flexible approach to meet the challenges of the changing waste environment and legislation.
Waste and recycling collections and street and beach cleaning services are an essential public service provision. Whilst local authorities are still facing significant financial challenges, the appointment of Biffa on a seven year contract is welcomed by the councils.
Check out the East Sussex Joint Waste Strategy here:
Get in touch with the BBC to share your experiences by emailing haveyoursay@bbc.co.uk.
WhatsApp: +44 7555 173285
Tweet: @BBC_HaveYourSay
Text an SMS or MMS to 61124 or +44 7624 800 100
Send pictures/video to yourpics@bbc.co.uk
Upload your pictures / video here
Please read their terms & conditions and privacy policy